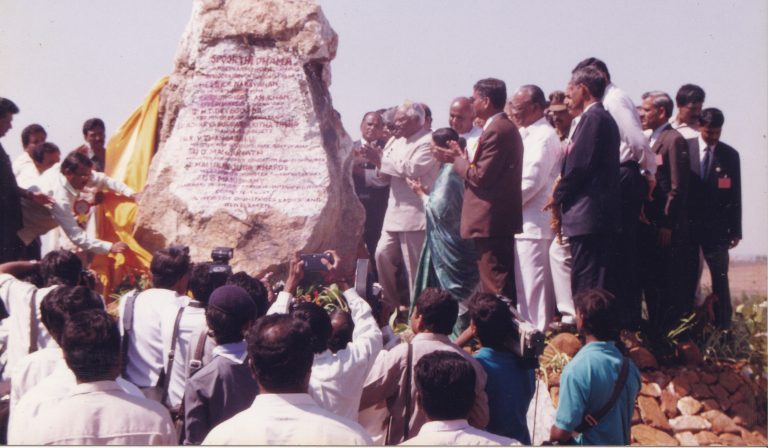 The annals of Indian history speak of Baba Saheb Ambedkar's relentless struggle against injustice and oppression. Throughout his life, he worked hard for the upliftment of the downtrodden. Finally, in his last message Baba Saheb called upon us to take forward the caravan he had brought so far.
On the occasion of centenary of Babsaheb's birth anniversary a group of people decided to celebrate it in a meaningful manner. They took upon the task of creating awareness about Babsaheb's life and struggle across the state. A Committee was formed under the name of Baba Saheb Ambedkar Shathamanothsava Samithi for the event.
The Samithi decided to undertake a Swabhimaana Jatha, a year- long journey across the state, carrying Ambedkar Jyothi, the torch of Babsaheb's philosophy and vision.
The Jatha was flagged off after a grand celebration at the Kanteerava Stadium on 14th April 1990. Along its journey the Jatha held awareness programs with people about Babasaheb's life and mission, his contribution towards national life and nation- building, conducted discussions about the evils of caste and gender- based discrimination in society and distributed booklets on Babasaheb's life and thought and those of other visionaries who fought against different kinds of discrimination.
People irrespective of caste and creed responded to the Jatha with great enthusiasm. The Jatha was received at the district border by a team of leaders and after its sojourn in the district, it was ceremonially handed over to the leaders of the next district.
The Jatha was successful in raising people's awareness about Baba Saheb and his contribution to the people and the country. It had also the effect of broadening the vision of people and bringing them together.
At the end of its 365-day journey, the Jatha had covered about 20,000 kms and reached out to more than 3,000 villages. The Jatha returned to Bangalore on 13th April, 1991 to a two day celebration.
Even after the completion of the event the Committee continued its activities through seminars, workshops and cultural programs. What started off as an event to celebrate Baba Saheb's birth centenary eventually resulted in the formation of a registered trust under the name "Baba Saheb Ambedkar Shathamanothsava Samithi Trust". In appreciation of its constructive activities Government of Karnataka sanctioned thirty acres of land to the Samithi.
Thus was born Spoorthidhama-Ambedkar Memorial Campus. It was inaugurated in 1995 by Mr. K. R. Narayanan, the then vice-president of India.
Spoorthidhama dedicated itself to carrying forward Babsaheb's Caravan of struggle for equality and social justice, propagating the path of Buddha, the compassionate to reestablish it once again in India and stand with the most vulnerable and marginalized in society.